Y6 Leavers' Hoodies
1 July 2020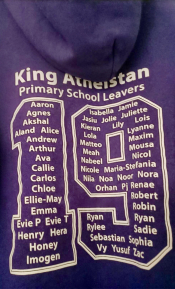 In case you missed the deadline for ordering a Y6 leavers' hoodie, we have ordered a limited number of extras. Please email us on pcsa@kingathelstan.co.uk asap if you wish to reserve one. 
Our donation link is still active for those of you who have expressed an interest in contributing:
https://www.givey.com/leavershoodies2020
Click on the thumbnail below to view a hoodie from last year (2019).