Magritte cake sale
9 March 2018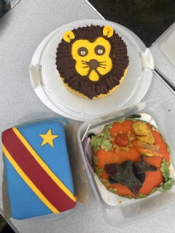 Braving the wind and rain the mums of Magritte class arranged the Africa themed cake sale under the tree canopy, last Friday!
Thea was announced as winner of the best decorated cake for her super lion's face delicious cake. We raised £108.50 and were delighted with the 'African' themed cakes and biscuits donated by the parents and carers.
Thanks to the helpers on the day, especially the children from Magritte class!