Christmas Fair Results 2019
29 November 2019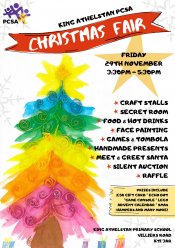 We are thrilled to announce that King Athelstan's Christmas Fair 2019 raised £3,245!! What a superb result, considering it was a shorter fair and we did not have estate agent sponsorship or any matched funding! 
It was a real scramble to get the fair set up and ready for the end of school last Friday. Luckily, we had lots of happy volunteers to help and the job was done just in the nick of time.

We had some fun new games including Rudolph Hoopla, Wheel of Fortune, Land a Choc and Knock the Elf off the Shelf. It was great to see the children having a good time playing these games and winning some great prizes along the way!

As always, we had some gorgeous cakes donated by some very talented bakers, which were no doubt delicious judging by how quickly they were devoured! Hotdogs and sausage rolls also helped keep the kids satiated after a busy day at school.

The choir gave a beautiful performance and made the fair feel truly festive. There were lots of cute reindeer running around the fair as well, thanks to the facepainting stall. 

Our "Special Guest" arrived bearing chocolate coins and it was fantastic seeing the joy on the children's faces as he chatted to them. His identity was however, rumbled, especially by some of the older children!

The ever popular Silent Auction was busy right until the very end, with some great bargains - the grand total made on this stall was £1,255. A huge thank you to all the businesses and individuals who's generous donations of vouchers and gifts made this possible.

Thanks must go to all the volunteers who put in their time and effort, both on the day itself and in the run up, in preparing games, gifts, cakes etc. We also had some fantastic support from the staff and their involvement ensured that the Secret Room ran smoothly throughout the fair. We are extremely grateful to them for helping out.

We hope that those who came enjoyed the fair. As always, we would love to hear any feedback you have regarding the fair.