Christmas Fair 2018 Results
1 December 2018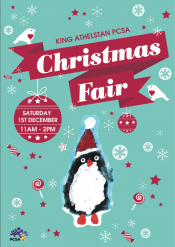 We are thrilled to announce that the King Athelstan Christmas Fair 2018 made a grand total of over £5,900!
We are also expecting there to be a few late additions to this sum, so we are truly over the moon with this result!
Thank you to everyone who volunteered with setting up, running the stalls and clearing up after the fair. It was a fantastic event and we had many complimentary comments throughout the day, which were all very much appreciated! We really felt the strength of the King Athelstan community - both in terms of help during the fair, as well as from people attending and enjoying the fair. As a new committee, we were very nervous about running our first big event - but all those worries turned out to be completely unnecessary! 
Thank you to all those who supported the fair in so many ways, from bringing in your donations, making crafts and cakes to sell, decorating, asking for prize donations, organising class stalls, running those stalls and so much more. There were so many jobs, big and small that all ensured the fair was a big success. A special shout out to the Senior Leadership Team and all the staff at King Athelstan for their support, help and patience throughout.
We would especially like to thank all the local businesses and individuals who's contributions towards our raffle and silent auction have helped greatly towards this magnificent achievement. All the funds from this fair are going towards our school playground project, 'The Big Outdoors'. This is a very large project which will completely transform the children's Outdoor Learning Environment. 
Thank you again. Wishing you and your families a very Merry Christmas.
---