Through the decades quiz night!
5 May 2017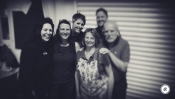 Last Friday night the PCSA held what is now becoming the annual quiz night.
Delicious food, copious amounts of beverages, a lot of thinking hard, a bit of competitiveness, and lots of fun was had by all. And after a close run battle, the teachers' team, ironically called The Runner's Up, were the victors, and Mr Holmes received the bottle of Champagne on behalf of his team!
All in all it was a very successful evening, raising just over £500.00 for the playground fund.
To build on this success, next year we will be holding an 80's themed quiz, so get your ra-ra skirts, keyboard ties, big hair, and day-glo at the ready, and have a great night out and help raise more funds for the school whilst you're at it!