Staff vs.Parent/Carers Football Match
25 March 2017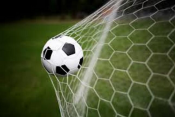 The sun was shining, the atmosphere was buzzing and the cakes were scrumptious. What more could we hope for for our first (now annual) PCSA Parents/Carers vs Staff football match? The game was fast paced, (at least for the first half!), with the the staff team being the first to make a mark on the score sheet, quickly followed by a levelling goal from James. The game progressed to include 7 more goals - James from the parents team found the back of the net again thanks to an assist from Tania, then the teachers scored twice more. It was all looking over until Gerry scored from a blinding free kick. The score was tied at 3-3 and it looked like it was going to penalties when the teachers managed to score in the last minutes to take the match.
A special thanks goes to Tania for leading the children in a half time skills show and also to Horia for valiantly guarding the goal at the half time shoot-out. Also a huge thank you must go to Mr. Porter for organising the staff team, the referee and for providing the team kits, ensuring they all looked the part!
Thank you to all the families who turned out to support the event. You made all the difference to the fundraising side of the event, but more importantly made the day a brilliant family one.
The event has raised over £2,000, which will all go towards the KS1 and KS2 playgrounds.
We're already looking forward to the next match. If you didn't get a chance to get involved this time or missed out on coming down, make sure you make the next one and help make it even bigger and better.