Rousseau cake sale
17 June 2016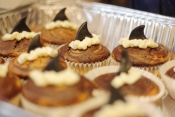 Thank you to everyone who helped to make the recent Rousseau cake sale such a resounding success.

Following an 'Under the Sea' theme, there were some amazing creations donated to the stall including sharks, scallops, fish of all shapes, sizes & colours and even a giant turtle! The volume and quality of donations received was incredible and special mention should go to Bella and her fabulously colourful winning sea creature cup cakes.

All of this hard work and generosity helped us to raise an astounding £150! Thank you everyone!