Walk the line!
20 May 2016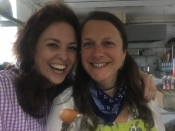 Thank you all so much for making our Walk the Line evening such a success!  Lots of dancing, hotdogs, a few beverages, lots of laughter, loads of denim, and not a sheriff in sight!

It was a fun evening, and all proceeds will be used by the PCSA for activities for the children.

Thank you to the PCSA for their help, and for the Year 3 Class Reps for organising it, and a big thank you to Lise for her expert dancing tuition.  Also, thanks to Miss Newton and Mr Porter for helping with the clearing up!