Year 1 Mini Olympics
22 April 2016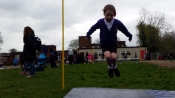 The Year 1 Mini Olympics took place on Friday 22 April. Despite the weather being more suited to Ramsgate than Rio, there was an excellent turnout, and children from the two Year 1 classes were cheered on by their families as they threw, jumped, kicked and ran their way to their own form of Olympic glory. The running relay and javelin were particularly popular, but the general consensus was that the hurdles event was the most fun – it certainly led to numerous tumbles, but happily, few tears.

The PCSA and event organisers are very grateful to Mr McLaughlin for co-ordinating the event. What made it particularly memorable and special for the children, however, was the amazing work of the school young leaders, who organised every activity, and who, without exception, coached, enthused and helped the younger children with such sensitivity and skill.

This was a sponsored event, which raised a fantastic £440 towards the forthcoming Year 1 Beach Trip. Many thanks to everyone involved.