Let's get ready for Bag2School!
17 September 2014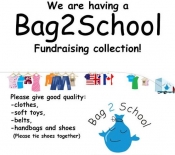 We're having a Bag2School fundraising collection!
Time to have a clear-out at home. Please donate good quality unwanted stuff including: adult's and children's clothes, soft toys, hats, belts, ties, handbags and paired shoes.
Remember, the more we collect, the more money we raise. We will receive 50p/kg which will be a great boost for our fundraising. In addition it will also raise awareness amongst the children of the benefits of recycling and reuse.
You will be provided with the bag. Filled bags will be picked up on Thursday 2nd October. Please drop off your filled bag at 9am at the school hall. Bags can also be brought in the day before and taken to the school office.