Quiz Night
17 May 2019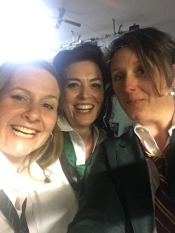 On the night of Friday, 17th May, the PCSA held what is now becoming the annual, adults only, quiz night. This year there was slightly less quiz, and more disco! Thank you all for coming along and for all of those that helped before, during, and after. We had even more of you than last year, and there was a stunning array of school uniforms to be seen!
Delicious food, copious amounts of beverages, a lot of thinking hard, a bit of competitiveness, and lots of fun was had by all. The new addition of a music 'Runaround' round, got everyone on their feet, working up a thirst. After a close run battle, a much deserved team called 'Class Dismissed' won a bottle of Prosecco to sooth their aching brains!
All in all it was a very successful evening, raising just over £625.00 for the playground fund.
To build on this continued success, next year we will need a new team of PCSA reps to take on the mantle, as we have now reached Year 6, and our little ones are no longer little!
We will be back next year to attend!
Kelly, Sarah, and Anita