Staff vs Parents/Carers football match
24 March 2018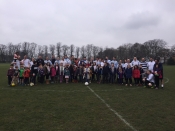 The 2nd Annual King Athelstan Staff vs Parents/Carers football match kicked off shortly after 10am on Saturday 24 March 2018. The stakes were high, as the staff had won last year's match 4-3. The Parents' team kicked off and the match started tentatively as players on both sides found their feet and voices. The match quickly built pace with a couple of close shots from each side. Suddenly at 20 minutes, Tom fires one in for the Staff team and it's 1-0 to the staff.
Tackles then got stronger as players started to become bolder. Just before half time, Jack hit the target making the score 2-0. At half time, the Parents' team was reshuffled and the 2nd half started with strong performances from both sides. Despite some solid defending from the parents, Stan made the most of a pinball ball in the Parents' goal area and it was 3-0. As things got a bit desperate for the Parents' team, careless fumbling resulted in an unlucky own goal and the score stood at 4-0 to the Staff. Something had to be done. There was another reshuffle of the Parents' team - James went into goal and made a cracking save. Darren from the Parents' team scored an astonishing individual goal to put the Parents' team on the score sheet. Another goal from Ian minutes later made it 4-2. Darren scored again at 57 minutes of the 60 minute game, making it 4-3. Could the Parents' team pull it back to make it a draw?
Alas it was not to be this year. Yussef headed one in for the Staff at 59 minutes and time ran out for the Parents' team to catch up.
It was fantastic to see so many King Athelstan families and staff members there supporting their teams. The event is well on its way to raising over £1,500 for the school, however, it is really the community building value of the day that stood out. A massive thank you to all the staff who gave up their Saturday morning to make this event happen, and especially to Joe for refereeing. Thank you to all year 2 and PCSA helpers who helped out behind the scenes and on the day. It wouldn't have happened without you. Really looking forward to next years match; victory to the parents team is well overdue.
Donations can still be made at https://mydonate.bt.com/events/pcsafootballmatch/458779#donation-summary
With tremendous gratitude,
Louisa Mcdonald, co Vice Chair.